With summer in full swing, now is the perfect time to upgrade your deck. Whether it's a gathering place for a family BBQ, or you simply want to unwind in your personal oasis, your deck can benefit from new lighting. Not only does new lighting look great and add tremendous value to your outdoor space, but it also provides priceless safety for you and your family. When choosing deck lighting for your home in Kansas City, consider these four styles:
Under Rail Lighting
Rail lights are conveniently installed under the handrails of your deck and give a downcast glow that illuminates the floor of your deck. Whether in the main gathering area or on stairs, this lighting option helps bring focus to the perimeter of your space, setting a beautiful atmosphere while keeping you safe.
Recessed Lighting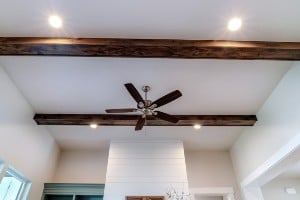 As the most traditional style of lighting, recessed lights sit back on your house and provide widespread illumination to the entire area of your deck. They're less defined than other lighting styles and provide a more general glow to the space, which adds to overall visibility.
Stair Lighting
Similar to under rail lighting, stair lighting is installed on steps to define particular areas of your deck for both beauty and functionality. This lighting option helps you become aware when taking the deck stairs, without the need for excess illumination.
Decorative Lighting
Decorative deck lighting sets the mood for your gathering, while still contributing to overall safety. Styles like string lights are the most popular, but decorative lighting can also range from lamps to outdoor chandeliers.
The best thing about deck lighting is that you can mix and match styles to create a space that meets all of your wants and needs. Feel free to combine traditional recessed lighting with modern decorative styles, or even include both stair lighting and under rail varieties. As long as you illuminate the space strategically, the design possibilities are limitless. Plan your summer deck remodel today by visiting Total Home KC or calling us at (913) 270-8570.