Maybe you've seen the documentary Minimalism on Netflix? It's an eye-opening look at the less-is-more movement and highlights the fact that often the things that make us truly happy are simple. If you're curious about this popular design trend, here are 5 minimalist interior design ideas for your dream kitchen.
Your Kitchen Can Use Some Minimalism, Too
Now, most of us think that the kitchen is the busiest space in every home, and that's actually true. The kitchen is where most daily life action happens, but that doesn't mean your kitchen needs to be extravagant.
Minimalist interior designs feature simple and clean kitchen layouts. If you're planning to build your own home or considering some kitchen upgrades, minimalism is a trend that's worth checking out.
Five Minimalist Kitchen Interior Design Ideas
White On White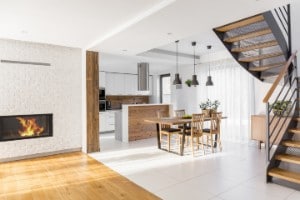 When you think of minimalism, you may imagine white because it represents simplicity and purity. It's especially popular with this trend. This minimalist interior design features an uncomplicated, yet modern, look that uses shades of white on walls, kitchen cabinets, counters, chairs, tables, and floors. Your kitchen will look heavenly with this unified color palette.
Black and White
A hint of black kitchen equipment, or black pendant lighting creates an uncluttered, stylish look. The contrast is dramatic enough to make it feel like your kitchen is featured in a cooking show.
Wood and White
Wood accents offer the irresistible vibe of natural freshness. Combining wooden chairs or cabinets with a white kitchen is a solid minimalist idea that works every time. If you want to spruce things up with a fresh, rustic design, this is for you.
Pastel and White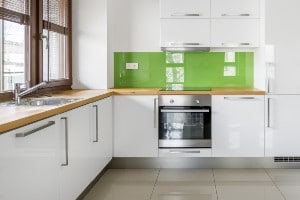 Who says you can only be a minimalist if you stick to a reserved color scheme? Minimalist kitchen interior design can also be achieved with bold colors. Pastel colors of light blue, lavender, pale yellow, and tea green add a chic, happy ambiance to your home. Also, this type of kitchen design will be appealing to your kids and can inspire them to want to spend more time in the kitchen.
White Tiles
This trend brings subway walls into your kitchen backsplash. Unique, right? Small horizontal tiles create a funky, modern look that will surely make your kitchen stand out.
Having a minimalist kitchen, or a mindful, less-is-more approach to life, can boost your sense of calm and satisfaction. Of course, another benefit of a minimalist kitchen interior design is that it's easier to clean and organize. So, if you're contemplating the best design and layout for your new house or kitchen remodeling project, a minimalist style might be just right for you and your family.