The kitchen is now the center of many homes. It's likewise a place where the homeowner can entertain relatives and friends dropping by for a visit.
If you want to impress them and opt for a kitchen remodel, but confused by all the remodeling ideas you see, why not start with the biggest thing nowadays? Here are a few trends in 2020 that might work for you.
2020 Kitchen Remodeling Trends to Try Out
For starters, it's best to seek professional help to ensure that your vision for your kitchen while following the latest remodeling ideas fit the rest of your home's interior. Make a shortlist of reputable remodeling contractors and discuss your needs with them. Kitchen remodeling is a big project, and you want to get it right the first time.
Stone Countertops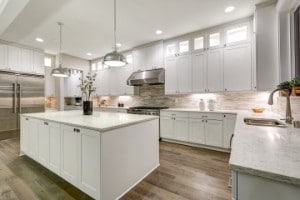 Add more pizzazz to your kitchen with a light or dark stone countertop. If you want something that's almost maintenance-free, choose light-colored quartz, which is very popular today. Marble looks exquisite, but it is porous, so it absorbs oil and moisture unless it is sealed.
Granite is stronger than marble, but it is still prone to scratches and stains. Like marble, granite needs regular sealing. Whichever stone you choose, the trend today is to either have a honed (non-shiny) surface, or one with a leathered finish, which has a soft sheen.
Open Shelves and Hardwood Cabinets
If you want to make your kitchen look more spacious, open shelving is a good option. If you are replacing the cabinets, you can mix and match your shelves with white hardwood or cherry cabinetry. Use light-colored shelves to highlight the color of the wall or choose a paint color that will make the open shelves look impressive.
Not interested in replacing your kitchen cabinets? Add the open shelves in the corners or between kitchen windows. Use them to display prized teacups, cookbooks, or beautiful pottery. Add more drama to your kitchen by installing lights under your cabinets.
New Flooring
Thick hardwood flooring remains the most popular material for high-foot traffic areas like the kitchen.  Hardwood is efficient in handling the effects of temperature changes and humidity. Another good option is to use engineered wood flooring. You may try trendy colors such as honey or blonde.
Engineered vinyl tiles are also a great option too! You get the look and feel of real wood, but they are more durable and easy to clean.
Smart Appliances
If you are ready to declutter some of your kitchen appliances, replace them with trendy smart devices, which can be controllable through your smartphone. Get alerts when it's time to buy food from a smart refrigerator or set your coffeemaker to make coffee at a specific time.
Buy an energy-efficient induction cooktop and convection oven, combination mini dishwasher, and sink, or a self-drying dishwasher. In general, the 2020 trends include kitchen appliances in bright colors and stainless steel.
Custom Storage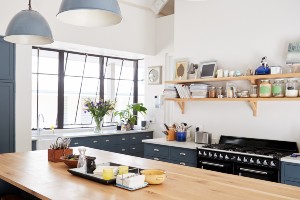 Storage is a problem when the kitchen is small. Make use of all available space around your kitchen, including the spaces between appliances and fixtures. With a creative plan, you can add drawers and shelves on your kitchen island. Or better yet, install a hidden pantry or a pullout pantry. You can also install shelves above your kitchen windows.
Making Your Kitchen Remodel Modern and Trendy
When deciding to do a kitchen remodel, consider your available space, family size, including your current and future needs. Ensure that your kitchen will be more open, efficient, and functional while being stylish and more striking at the same time.