If you're starting to get tired of how your bathroom looks, you can prepare for a bathroom remodel. And with this, one great way to enhance the total appearance of your bathroom is to install a shower enclosure.
Shower enclosures provide a stylish and luxurious look without having to do much work around your entire bathroom area. They have become a favorite option for a lot of homeowners, and more bathroom remodeling contractors are offering their services to install them in modern bathroom designs that best suit the needs and requirements of their clients.
The thing is, should you install one in your bathroom? Understandably, you may not have an answer now. Hence, we're providing several advantages that will help you come up with a decision. Here are a few things that you should consider.
Easy Upkeep
A significant advantage of shower enclosures is that they are easy to maintain. When it comes to cleaning up, you will find that they can easily be managed, especially if the protective coating is applied during installation. This can help significantly to reduce the problem of spots and stains from water droplets or soap. You also need not worry about frequent repairs as shower enclosures require low maintenance when installed properly.
Many Design Options to Suit Your Personality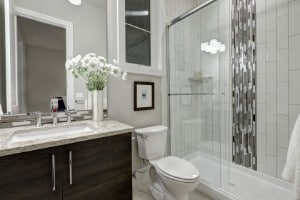 We all have ideas as to how we would like our bathrooms to look. The great thing about shower enclosures is that you can pick what particular design you find best. With so many design options to choose from, you will surely find one perfect for your bathroom's theme and own personality.
Safe and Secure
Did you know that shower enclosures are your safest option for your bathroom? They keep other areas of your bathroom dry, and your risks of slipping are much less. This is especially important with kids, and older people since accidents can happen to anyone. No wonder they are the choice of many homeowners. The bonus is that you also have much less to clean up after taking a shower.
Create a More Spacious Illusion
Are you still wondering if a shower enclosure will fit in small bathrooms? Yes, it will.
Much like adding mirrors to your spaces, shower enclosures can make a bathroom appear larger than it is. While it adds that luxurious feel and looks classy, smaller bathrooms can even benefit significantly from the roomy appearance it produces.
Bathroom Remodel with the Right Additions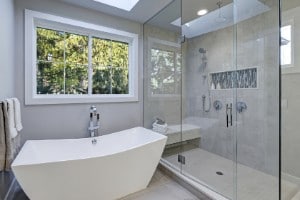 Your bathroom deserves as much attention as any other room in your house. You spend a lot of time here, and you surely want it to look pleasing and attractive. Adding a shower enclosure to your bathroom remodel requirements is an excellent idea that provides you with all of the benefits related to your comfort and convenience. So go ahead, give the facelift it deserves with a beautiful shower enclosure for enhanced visual appeal and functionality.