Your seldom-used basement may be the perfect storage area for old and unwanted items, worn out furniture and appliances, or childhood memorabilia, but it can also be turned into a livable and stylish space.
Beautiful Basements: Surprising Amenities that You May Add to Your Home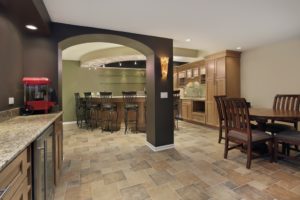 Before you embark on a basement remodeling project, it is important to know how you want to use that extra space. Are you leaning towards practicality and functionality? Do you want your basement to be your private getaway or do you plan on using it as an area for family bonding or entertaining guests? Once you've decided the purpose of your new basement, it will be easier to plan the layout, furniture, and the budget needed to cover your basement remodeling project. Here are some basement remodeling ideas to get you started:
Guest Suite
If you don't have a dedicated room for accommodating guests, then you should consider redesigning your basement into a guest room. Make sure to provide the right amount of insulation and lighting to keep your guests warm and cozy. Adding a guest bathroom is also recommended so your guests won't have to come up and down the basement stairs in the middle of the night to look for the main bathroom. These amenities will create a welcoming and comfortable stay. If you have kids, you might also consider a dorm type layout, with bunk beds, bean bags, and a play area, perfect for hosting sleepovers.
At-home Bar
Why go to a club or bar if you can have your own in your basement? An at-home bar is a fun and functional way to transform your basement into a comfortable space for having drinks and unwinding with your friends. You can pattern the look of your basement bar after the layout of your favorite watering hole or you can opt for a more traditional design using brick or stone walls.
You can also include a pool table and TV to provide additional entertainment. If your basement space allows, you can add a couple of couches for guests to relax or sleep on, instead of having them drive back home.
Workout Haven
If you don't want to spend your money on gym membership fees, then it might be nice to have your own workout room downstairs. Consider an open space design to accommodate your preferred gym equipment and allow space for yoga, stretching and other types of workouts. You might also consider adding a sauna where you can immediately jump in after a hard workout to help your body recover.
Music Studio/Home Theater
Have a budding musician in the family or simply don't want to disturb the neighbors while you jam with your friends or watch movies with your family? Turning your basement into a soundproof music studio and home theater will allow you to have fun and make all the noise you want without being a nuisance to your neighbors. You can use part of the basement space to build a mini-stage for playing instruments and the remaining space for comfortable seating and an entertainment system for watching movies.
Basement Remodeling Services in Kansas City
Remodeling your basement is a major investment. At Total Home Remodeling, our professional team of designers is dedicated to helping bring your vision of a stylish and functional basement into reality. Our experts will work with you in each phase of your renovation project to ensure high-quality construction that meets all your requirements.
Contact us today to discuss your basement remodeling project!