Last week you finally gave in and bought that expensive fuchsia-colored stand mixer that you have been dreaming about for years. As you opened the box and put your new prized possession out for display, you were met with unexpected disappointment.  Bringing such a beautiful new appliance into your culinary space only left the room feeling outdated and sad.
You quickly realized that your cooking area needs more than just a new toy sitting on the counter to give it new life. In fact, your kitchen cabinets from the 1990's need a serious facelift. Before the remodeling process scares you off, remember that not all big appearance changes need to be drastic. Transformation options do not have to be costly, difficult, or cause a headache.
When giving your kitchen cabinets a much-needed tune-up, you have three options:
Refinish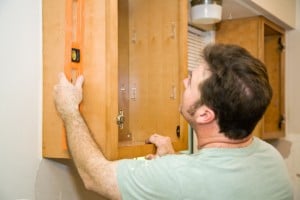 For cabinets with a sturdy structure in place, oftentimes a simple paint job can completely transform a kitchen. Affordable and quick, this process allows you to strip, sand, and repaint or stain your cabinets to match your overall design needs.
Reface
If you want a new style of doors on your cabinets, refacing is a simple option. This process lets you choose new doors and hardware, and attach them where the old doors used to be. New coats of paint and stain can then complete the look and help the new additions to match the existing cabinet structure itself.
Replace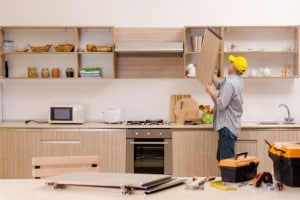 The most invasive of the options, replacing your cabinets allows you to transform your kitchen into the space of your dreams. While more difficult and time-consuming than refinishing or refacing, this process gives you total freedom when it comes to the layout and style of your home.
Which option you should choose depends greatly on the quality of your cabinets themselves. Are you just looking to spice them up a bit? Refinishing is an easy way to give your kitchen a pop of color. Are the cabinets as old as the house itself, cracking, and barely hanging onto the wall? It is probably best that you consider replacing them as soon as possible. What about if the cabinets are not of brand new quality, yet are still holding together nicely? Refacing is the perfect way to prolong the life of your cabinets and keep up to date with the style of modern kitchens.
Remodeling your kitchen cabinets does not have to be a stressful process. Remember that you have options available that will not only save your wallet from stretching but also your head from aching. Plus, just imagine how great your new cabinets will look complimenting that top of the line fuchsia stand mixer that got you into this mess in the first place.