HONED TILE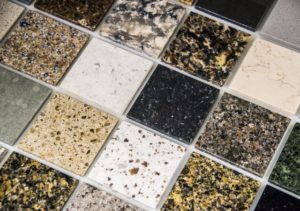 Look and Feel:
Honed lacks the shininess and reflective qualities that polished marble has. Instead, it has a more satin-feel, smooth and velvety to the touch.
Characteristics:
Honed finish is very scratch resistant because it lacks the glossy surface of a polished marble. Therefore, when honed marble does get scratched, it is not obviously reflected when light hits it. Consequently, honed marble soaks up liquids spilled during cooking faster and easier.
Suggested Application:
As perviously mentioned, since honed is resistant to scratching and less slippery when wet, it is popularly used in high-traffic areas, including floors for the bathroom, living room, foyer, and even kitchen counters.
Maintenance and Damage Repair
Once liquids spill on the surface of honed marble, wipe it off immediately. To clean honed marble, one must never use regular soap because it will seep through the surface and darken its color. Instead, use mildly abrasive household detergent with bleach.
POLISHED TILE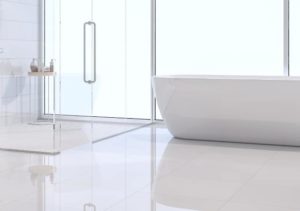 Look and Feel
A polished finish gives the smooth surface a shiny, much glossier look.
Characteristics
The polish that coats the marble also acts as a type of protection, therefore allowing it to withstand stains better. However, the reflective characteristic of the finish makes it more prone to scratches.
Suggested Application
Using polished marble on areas with high foot traffic is not the best idea, one because the wear and tear of everyday activity would be prevalent and apparent. You are even more highly advised against using it on your bathroom floor, as it gets very slippery when wet and can be hazardous. It is, however, a popular option for bathroom countertops, powder bathrooms, fireplaces, and walls.
Maintenance and Damage Repair
Unlike honed marble, polished marble does not require as much re-sealing. As is with honed marble, you must immediately wipe off any stains because certain substances will etch the surface, like toothpaste, for example. Use water, mild bleach solution, and a small brush to clean your polished marble. Brushing too roughly or using a detergent with too much ammonia can damage the finish.
MAINTENANCE & CLEANING
Though honed and polished finishes have contrasting characteristics, since both surfaces are made of the same natural material, the following everyday substances can damage them:
– Alcoholic beverages
– Fruit juices
– Vinegar
– Tomato products
– Mustard
– Carbonated beverages
– Salad dressing
– Tea
– Coffee
– Butter
– Cosmetics
Another thing to remember whether you choose one or the other is that you should always remember to thoroughly clean the surface before reapplying sealant.
Well, there you have it, an overview of some general—but important!—facts to know about honed and polished marble. If you have any other questions about the differences between honed and polished marble, give us a call- we're happy to answer your questions or get you in touch with someone who can in the Kansas City area.