Summer is fast approaching, and your backyard is among the best places to enjoy bright sunny days and temperate evenings. In Kansas City, it's a season filled with barbecues and pool parties; so, you should get your patio ready for your guests. Here's what you can do to make the most of your outdoor living space just in time for summer weather.
Patio Perfect: Making the Most of Your Outdoor Living Space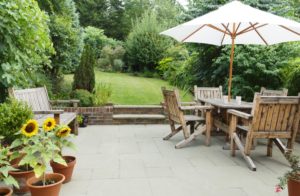 Do Some General Maintenance
Before you can do any decorating, the first thing you should do is to put on some old clothes and clean up around the yard. If you haven't done any maintenance on your landscape since winter, now's the time to get on it. Start raking any thatch to make sure your lawn grows out well. Thatch is dead grass tissue that forms a cover that prevents water and nutrients from seeping down into the healthy grass underneath it. Get rid of weeds; if you're not a fan of handpicking, you can always use an environmentally-safe spray-on product or DIY remedy. Once you've cleaned up your grass, add fertilizer, execute your usual mowing strategy, scrub the patio deck.
Set Up an Outdoor Kitchen
One of the wonders of warm weather is that you can finally use your outdoor living space. You can even create your very own kitchenette in your yard. There's nothing like the enticing aroma of a nice steak or some chicken cooking on a grill. An outdoor kitchen, however, is challenging to DIY. It's best to ask a professional to plan and build one for you. If you do not have the space for a full outdoor kitchen set up, add some nice patio seating near the grill!
Create a Garden
If you really want to make the most out of your outdoor space, plant some seasonal plants. If you're new to gardening, planting herbs like basil and rosemary is a great place to start because they are easy to grow and provide bountiful harvests. Take a swing at sustainable living by planting a few easy-to-grow edible greenery.
Give Your Home the Makeover It Deserves
If you want to make the most out of your outdoor living area, you may need to make some functional and aesthetic changes.  For example, you may need to add a deck or build a cooking station.  Maybe you want to slightly enclose the space or install a canopy, for added comfort? While these changes may take time, money, and effort; they're all worth it once you see your guests having fun on your patio.
When it comes to making changes to your home's exterior design, you should hire experienced professionals to ensure you're getting a beautiful and durable result. Here at Total Home Remodeling, we're ready to handle the remodeling project you envision.
Contact us today to get a quote and start your remodeling project.