White, beige, and other neutral colors are popular color choices for bathrooms as they create a neat and antiseptic look. These colors tend to make the space look a little drab and sterile, though. And, while bathrooms are typically more functional than decorative, a few lively splashes of color certainly won't hurt. They'll even make your bathroom a more beautiful and interesting space.
As Kansas City's go-to home remodeling team, we're going to show you ways to use colors for a vibrant bath remodel.
1. Bring Out the Paint Brush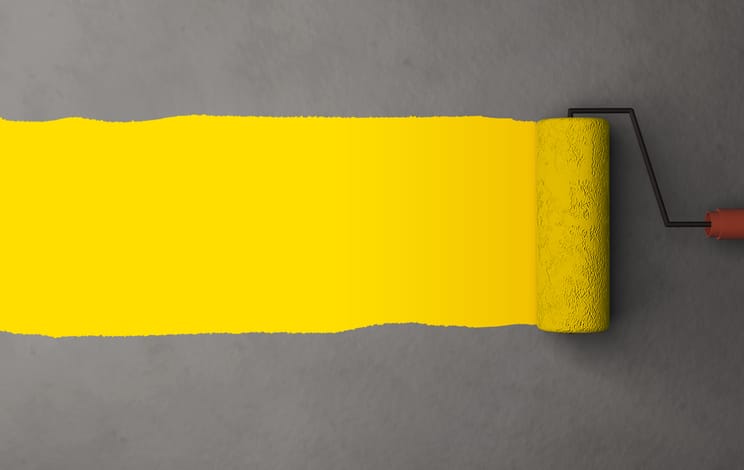 Paint is the simplest and most basic way to add a vibrant splash of color to your bathroom. Before you cover the floors with canvas and buy cans of paint, though, consider the following aspects:
The size of your bathroom
Large bathrooms in white paint have a spacious, airy feel. Of course, we're aiming for more color in this space, so you can use a bold blue undertone for a crisp look or a bright yellow undertone for a cozier feel.
While neutrals are often perceived as colors that make a room look bigger, you don't necessarily have to paint a smaller bathroom in a palette of creams or off-whites. Remember, we're trying to liven up Also lavatory. Also, steer away from warm tones in lighter palettes because they can make your bathroom look dingy. Instead, opt for darker, inky colors. Navy or dark charcoal can make the walls feel as if they disappear into the background while still giving your bathroom a warm and cozy feel.
The layout of your bathroom
Do you have a full bath, a shower room, or a powder room? The type of bathroom you have can dictate what vibrant color to paint your walls and ceiling with. Powder rooms are perfect spaces to try a bold color with, like bright orange or eggplant purple.
Vivid accents in showers and full baths make for nice pops of color, as long as they complement wall paint. You can also paint the walls and ceiling the same color for a cohesive look.
The existing finishes and fixtures
Walls and ceilings aren't the only things you can paint over. Since bathroom cabinets aren't usually at eye level, they can be your source of color in the bathroom. You can paint them as bright and vivid as you want without having to worry about the color being too overwhelming.
Other fixtures, such as faucets and tiles add their own pops of color to your bathroom. Make them stand out by painting the walls they're against in a contrasting color.
The amount of light your bathroom receives
Darker, jewel-toned paint colors work better when your bathroom receives ample light, whether that's natural light from windows or artificial electric lighting. Warmer tones, meanwhile, brighten a bathroom that doesn't receive as much light.
2. Eye-Catching Accent Wall
If you're not ready to commit to repainting your entire bathroom, try doing it on just one wall. Start by picking the best wall to showcase. Usually, this means the wall facing the door or one that's a frequent focal point when you're using the bathroom.
Once you've chosen your accent wall, start thinking outside the box. Creating an accent wall doesn't necessarily mean simply slapping on a bright, bold color. Think about other ways to use paint, such as using metallic colors or painting stripes instead of a solid hue.
You can also discard paint completely and use other sources of color to liven up your accent wall. Wallpapers make for a great tool to personalize your bathroom while also giving it a bit of color. What's better is you can change wallpapers easily to fit the season or your design mood.
Unique tiles can also make a statement in place of a wall of paint. With tiles coming in all shapes, sizes, colors, and textures, it's easy to find something with which to bedazzle your bathroom wall. Whether you get a wall of seashell-shaped tiles in different hues of blue or geometric accents in a rainbow of color, tiles will elevate your accent wall to a whole new, even more, eye-catching level.
3. A Vibrant Vanity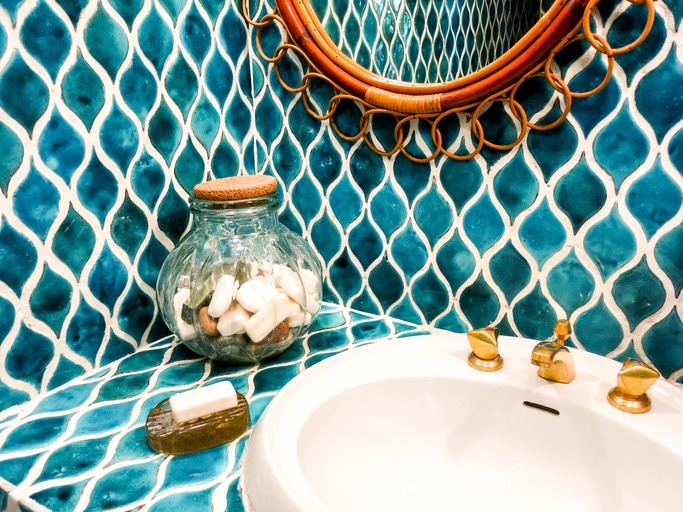 Bathroom vanities usually come in light, porcelain colors, woody browns, or matte black. But if your walls are already painted in a neutral hue, make a statement by getting a vanity or painting your current one in a fun color.
Adding colored tile to your sink area can give your bathroom a unique look. In addition to that, you can add a bolder color to your cabinets and make them pop against neutral walls.
4. A Colorful Tub
There's nothing better than soaking in a tub filled with jasmine-scented warm water after a long day. But, your bathing experience doesn't have to be limited to what is inside your tub.
If you want to experiment beyond the traditional white porcelain tub, a colored or frosted tub may be just what you're looking for.
Experimenting with a variety of materials, like copper or cast iron, also make for great alternatives to your usual granite or marble bathtub. Wooden bathtubs are an option, as well.
If you still want the classic look and feel of porcelain or marble tubs, you can have the exterior of yours painted. Either way, the unique color or material you choose for your tub will serve as an attractive focal point in an otherwise neutral-colored bathroom.
5. Don't Forget the Décor
From floor covers and rugs to towel baskets and display shelves, the décor in your bathroom can pull the look of the space together. Use items in matching jewel tones and they'll stand out perfectly against plain walls, floors, and ceilings.
A brightly patterned rug, for example, not only adds an exciting splash of color but also provides texture. For a truly cohesive look, choose colors that tie in with the rest of the accents in the room. Your soap, towel, and spa bath candles can all be in the same shade, making your bathroom feel fun but organized.
6. Wall Art Made for Staring
The placement of art isn't limited to the living room or the bedroom. Many well-decorated bathrooms feature artwork that goes along with the rest of the décor. Adding a piece of artwork in the bathroom can immediately spruce the room up and can impact the overall ambiance. So, choose pieces of artwork that catch the eye.
However, you might want to keep your Renoirs and Monets away from your bathroom. It's not as well-equipped to handle artwork as the other parts of the house. When you do hang paintings, though, make sure to hang something moisture-proof and replaceable. This way, you would not have spent thousands on something that will only be destroyed by mold. Also, use rust-resistant metal frames. This material can withstand fluctuating temperatures, unlike wooden frames, which expand and contract with fluctuating temperatures.
In addition, you can better protect artwork pieces in your bathroom by preventing moisture from seeping in. That is why for the framing package, you have to make sure there's no glazing. Moisture can easily build up between two panes of glazing material, leading to the destruction of the piece of art they hold. If you really need to use a frame with glazing, though, make sure it's acrylic and not glass. The former material is more resistant to moisture buildup than the latter.
Keeping your pieces of art protected from moisture in the bathroom is just one of the ways you can ensure the space looks great. You should likewise strive to keep the color palette of every piece of art similar to other accents in your bathroom. This will give the space a more cohesive look while still giving off a stimulating, thought-provoking vibe.
7. Get That Greenery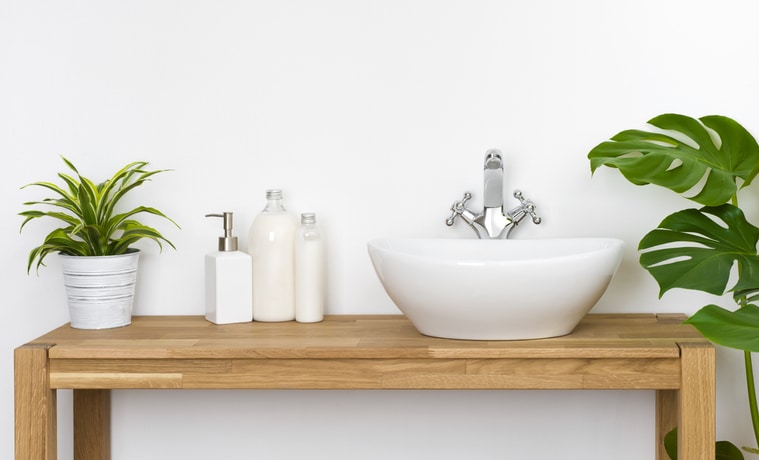 If you're not one for color-coordinating or for DIY paint or wallpaper installation, then your best bet is to incorporate colors and elements from nature. Adding indoor plants in strategic corners of your bathroom is a low-key and low-maintenance way to update the space. Plus, it's a great way to energize and purify the air, depending on which plants you choose.
If your bathroom is small and you don't have enough surfaces to place plants on top of, you can always set them in hanging baskets and suspend them from your shower rod or by the window curtain. Against most wall colors, the vibrant hues of nature's greenery will surely pop.
Bring Color to Your Bath Now
Ready to try any one of these colorful ideas for your bathroom? Get in touch with experts at Total Home Remodeling today. We're Kansas City residents' go-to company, not only for your bathroom remodeling needs but also for different interior and exterior home remodeling projects.
To learn more about interior remodeling services click here or get a free quote for your next project.