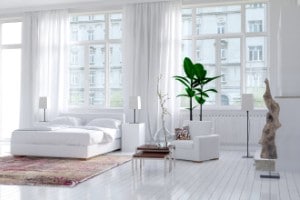 The absence of color is a beautiful way to go with home design. Simple white tile and clean lines make a space that you can really feel at peace in. To create a serene and cohesive feeling, try to use a palette of white, cream and soft gray.
With the trend moving towards all-white, crisp, clean white kitchens, spaces with gleaming marble counters and white backsplashes are everywhere you look these days. 
White makes space look bigger and airier, and enhances other design elements. Wood cabinets look richer against white tiles. Pendant lights stand out as sculptural elements, and stainless steel appliances sparkle. Adding marble to the mix introduces a luxurious touch.
Wood floors pop up and are seen by all when set against a white background. In this space, we chose a dark sink to break up the expanse of white. Warm wood stools make the all-white kitchen cabinets a beautiful show.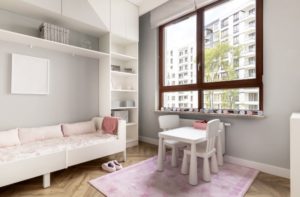 The bedroom is a perfect place to go slumber in serene white. Turn off the world and your mind is a blank canvas to dream.
Chrome accents add sparkle and dimension to this white kitchen while wood floors add warmth. Traditional styling and marble create a classic look. Wood stools with gray blue accents were inspired by the coastal feel of the room.
Consider whiting out some space in your home next time you remodel. It could be the fresh look your space needs.