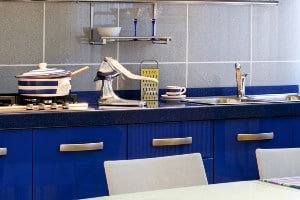 Anybody who loves fashion will tell you the hot trendy color of the season is navy. Is your style going nautical, or modern? Navy can take you there. Most likely, because it is neutral enough to play the part of black, but fresh enough to be seen as a new look.
As so cleverly stated by the lovely shefinds.com in their post, navy has always been a classic. So, navy really isn't the new black, because it is in the same boat as black. Classics are not trendy. They are staples of home and clothing fashion.
That being said, navy may just be the classic not black color for you. As illustrated in this kitchen picture navy can be downright fresh!
This shade is more muted with a ting of gray, that speaks of simple and classy. Paired with the stainless hardware it is a modern style to love for a long time.
In this fabulous post, we see that just a dash of navy used in accessories and appliances can be modern chic. That navy pop makes this mostly white kitchen gain a feeling of tranquility. A good navy can do that to space. Maybe, it is time to see things in navy and white.