In a world that has grown so busy that we have to schedule any relaxation, you really need a vacation more than ever!
So where was the last place that you beckoned you to unwind and turn off your phone? The place where you felt like you that you really like being. Hold that thought. Let's take it out to Pinterest and shop that design concept.
BEACH GETAWAY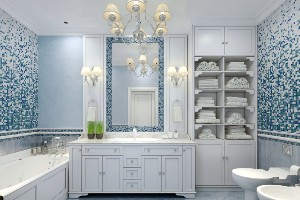 Bring those turquoise waters back home with you through a backsplash done in pearlized aqua blue tile. The clean white sands can be seen in your white cabinets and walls. Take a tip from Mediterranean architecture and remodel the doorways into rounded arches instead of standard straight ones. The large glass globes on the light fixtures are light and airy. Just like a beach breeze, this space cools you down. Take a walk on the boardwalk with the wood deck ceiling.
Work won't seem so difficult to do when you are in a tranquil waters state of mind. You don't have to have a beach theme per se. Just use colors and elements from the beach to take you there mentally. Work will be so much easier when you schedule a trip for next vacation at your beach getaway desk.
MOUNTAIN RETREAT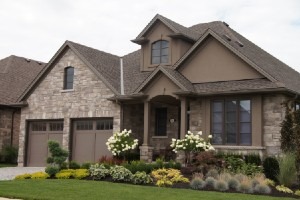 A full Lodge Ski Resort theme may be out of place as the style for your whole suburban home, but you can pick out some of the features you like and incorporate them throughout.
Take inspiration from the real deal. This rustic retreat made me ready to hit the slopes and take a hot shower in this bathroom.
If you don't want to commit to the whole mountain theme throughout, a bathroom is a safe place to play with themes. Smaller spaces are easier to commit to more bold design choices.
Another easy way to incorporate natural elements through design focal points such as fireplaces. Natural stacked stone brings a beautiful outdoor statement inside to enjoy all year long. In this home, we took a rustic wood piece, stacked stone and made a mantel that looks rustic modern.
This summer take some adventures. Make some memories outdoors, and bring them home to surround yourself with vacation-inspired design.