Summer is in full swing! It's that time of the year again to lounge by the pool and enjoy cookouts with your friends and loved ones. Say goodbye to the blistering cold and the heavy rains and just enjoy the warm sunny days.
Aside from recreational activities, summer is actually a good time to check on the condition of your house. Renovating or repairing certain parts of your home is much easier during summer because the weather condition permits you to undertake even a major reconstruction with relative ease. You can make repairs without having to worry about heavy rains or snow. Summer is also the perfect time to start creating an awesome indoor-outdoor living space.
The Concept of Indoor-outdoor Living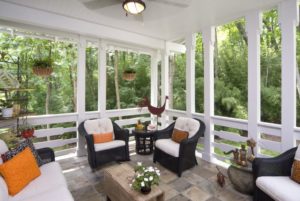 Indoor-outdoor living is a concept that incorporates the best of both worlds into a single space. Indoor-outdoor spaces combine the sense of comfort derived from a home's interior and the feeling of freedom a home's exterior exudes.
The concept of indoor-outdoor living can be applied to many parts of your home. For instance, the living room can have doors that allow direct access to a balcony or a lawn. Many indoor-outdoor living rooms also have access to pergolas or gazebos to provide shade and protection from the rain. Popular indoor-outdoor bedrooms have floor-to-ceiling windows that allow you to reconnect with nature from within the confines of your home.
One example of spaces that are becoming more and more prominent today is the outdoor kitchen. Outdoor kitchens are not necessarily a new thing but their resurgence in residential homes is quickly becoming a big trend.
An outdoor kitchen can be an extension of your indoor kitchen, making use of the indoor-outdoor concept to foster happy moments of eating outdoors. Homeowners might want to consider the benefits of having outdoor kitchens, especially at this time of the year.
Why an outdoor kitchen?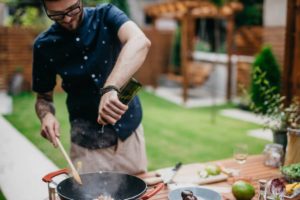 Summer is the best time for cookouts and other outdoor parties. Enjoying your time with family and friends while waiting for the BBQ or lunch can be very relaxing. However, outdoor parties can be quite a hassle for homeowners who will need to run back and forth their indoor kitchen to serve food and bring out the dishes.
Having an outdoor kitchen minimizes the need to run around all day and cater to different requests by bringing the kitchen out and nearer to where the party is. An outdoor kitchen makes cooking and socializing a lot easier and more convenient for the homeowner.
An outdoor kitchen can give your home's presentation a huge boost.
Outdoor kitchen designs
Your outdoor kitchen's design depends on your taste and preference. Remember that you, as the homeowner, and the people living in your home should be satisfied the most with the design of your place. Impressing guests and friends is just a bonus. That said, there are lots of designs you can choose from, depending on how you will utilize your outdoor kitchen.
If you want your outdoor kitchen to have the same ambiance as your home's interior, you may choose to incorporate a fire pit or a fireplace as the focus of its design. The fireplace boosts the sense of comfort your outdoor kitchen brings, making you feel as if you are enjoying the warmth of your home's living room.
If you want your outdoor kitchen to be the place where family and friends gather to socialize, you can go for a bar-like design. This design combines the functionality of your outdoor kitchen and its potential to become the next entertainment center of your home.
If you have a pool, you can opt for a traditional design with a grill. That way, whenever you have pool parties, you can watch over the kids, while you are preparing food. For this type of kitchen, it is a good idea to install vent hoods to ward off smoke and other odors.
For homes with small patios and backyards, you can go for a minimalist design. The focal point can be an appliance or equipment, such as a smoker style grill or a glass water dispenser.
Tips for your outdoor kitchen
In building the foundation of your outdoor kitchen, it is important to take into consideration layout. Keep in mind that an outdoor kitchen should be usable all-year-round. Therefore, flooring material that can become slippery when wet should be avoided. You must also be conscious of the overall weight of the appliances that you are installing.
If you have a small backyard or a small patio, it is best not to overdo it. Build an alternative BBQ island instead that is a better fit for a small space.
For a more cohesive look, you can match your outdoor kitchen's paint color with that of your home's interior so it doesn't run the danger of feeling secluded from the rest of your home.
When choosing furniture, choose functional pieces that are comfortable. Large tables can be used as a buffet table and a dining table. Use chairs that can be stacked so you can save space when they are not in use. For small spaces, you can opt to put stylish chairs instead of large couches.
Select low-maintenance materials and equipment. Materials and equipment used for your outdoor kitchen should be durable and should require little to no maintenance. Remember that this is still a kitchen, so it is subject to regular wear and tear. Stainless steel equipment, in particular, provides a sanitary surface that is easy to clean and is resistant to corrosion.
Revamp Your Kitchen Your Way
Total Home Remodeling KC understands that the kitchen plays a vital part of a home. It is a place where family and friends can gather and bond over what many of us enjoy the most — food.
To us, your vision matters. Our goal is to transform your outdoor area into a functional and comfortable space. We are open to your ideas on how you want to maximize your space while addressing your unique needs. At Total Home Remodeling, we combine function, style, and quality that will last for many seasons.
For more information about us and our services, please contact us at (913) 270 3492 or click here to fill out our contact form.