Your master bedroom should be an oasis. A place for rest, relaxation, and the opportunity to hide from your kids for a couple of hours. Because of its vital importance, your master bedroom should be both functional, as well as incredibly stylish. As part of your home remodeling project, turn your master bedroom into your favorite area of the house with these trending design elements:
Strategic Storage
A proven way to make your master bedroom a relaxing escape is to keep it organized. Easier said than done, right? Not when you incorporate strategic storage into your home remodeling plan. When designing your new space, consider opting for the trend of an oversized walk-in closet, or even choosing furniture that allows for extra storage space, like under bed drawers.
Bold Colors
Sure, neutrals are great, but they are even better when paired with the trend of accent colors. These bright, bold pops add personality to your space, while giving it a distinctly different feel than the rest of your home. Accent colors can be incorporated through the paint you choose for your walls, the hardware on your doors and windows, or even in furniture.
Large Windows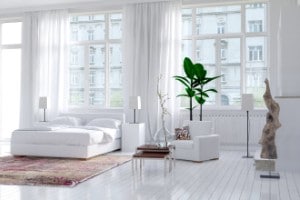 Nothing opens up a room quite like big windows. Experience the beauty of outside – and the benefits of the illusion of more space – by installing new, larger windows in your master bedroom. The trend of increased windows won't go away anytime soon, and they will be a valuable feature that you can enjoy for years to come.
Sound-Proof Doors
Let's be honest – when you are in your master bedroom, you want some peace and quiet. Get it with trending sound-proof doors. Stunning and silent, these doors will grant you the serenity you crave while providing your home with high-quality, long-lasting new features.
Planning a home remodeling project for your master bedroom soon or just want to improve the space a little? Our experts are here to help you turn the area into a slice of paradise you won't ever want to leave with the latest design trends. To get started, visit Total Home KC today.