Spring is quickly approaching, and that means more time spent outside with family and friends. However, no one wants to spend their precious outdoor time with a house that is dull and still suffering from the winter blues.
Before spring swings into full effect, get your home's exterior ready for warmer weather with these 5 quick fixes:
Hardware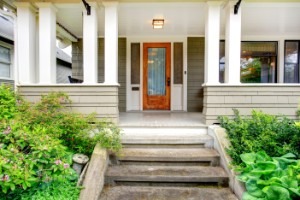 Is the hardware on your outdoor lights rusting, or is your doorknob tarnished? Replace your home's old hardware with new stainless steel or brass pieces for the season ahead. Just an hour or so spent switching out these accents will give your home added value and style for years.
Lighting
Inspect your home's exterior lighting, and be sure to replace any dull bulbs. Also, keep an eye out for wires that are fraying, or have been compromised by the elements. Taking care to keep up with your exterior lighting not only keeps your home beautiful but also keeps your property safe.
Siding
Take some time before spring arrives to patch problem areas in your siding, or even do a full replacement of it. Installing new LP SmartSide siding will ensure added value and efficiency to your home well past just this spring season ahead.
Roofing
With spring storms in the forecast, make sure your roof is in top shape. If shingles are loose or you notice a leak beginning to form, get your roof repaired, or even replaced now before the issues become bigger. This preventative care will save you a ton of time and money in the long run – or better yet contact your most trusted roofing contractor in your area.
Paint
Treat your home to a fresh coat of paint this spring. Whether you just do spot treatments on problem areas or go all-in with a new vibrant color, take time before the weather becomes too hot to get the job done. A fresh layer of paint is the perfect way to keep your home in top shape.
Spring is almost here, so take advantage of these longer, warmer days to improve your home's exterior. Even just an afternoon spent trimming trees or replacing light bulbs will have major effects, and keep your home beautiful for seasons to come.