We get it—fireplaces are cool. We think so too. That's why we believe you should have a mantel that complements yours.
Fireplace mantels are often the focal point of whatever room they are in, so make yours a good one with these inspirational design tips:
Material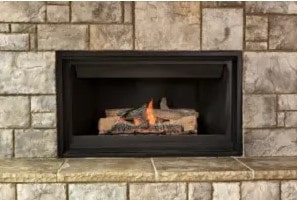 The material you use for your fireplace mantel should reflect your home's overall design and personality. For example, modern contemporary homes often look great with a mantel made from stone, while rustic homes become even more cozy with a mantel made out of a reclaimed wood beam. Just make sure when you are choosing the material to pick something that not only looks incredible but is strong enough to last a lifetime.
Color
Like the material, the color you pick should reflect the theme of your home. With that in mind, while a lot of homes have mantels that match their wall color or floor tiling, a new trend is having the mantel stand out as an accent in the room. Whether a dark stain to contrast light walls or a bold shade of paint like red or hunter green, turning your mantel into an accent piece helps draw attention to it while adding dimension to your space.
Lighting
What good is a beautiful mantel if you don't show it off? When designing your remodel, be sure to account for proper lighting. Whether recessed lights, a hanging structure, or even lamps that sit on top of it, the right lighting will bring new beauty to your mantel.
Whether your mantel frames a patio fireplace where all of your friends like to gather or it is a favorite location to display dozens of framed photos in your living room, you can customize it to fit your unique needs. Need help getting started? Visit Total Home KC today and our experts can help you begin your Kansas City fireplace mantel renovation.