As we approach the final quarter of 2019, let's take a look back at some of the design trends that have reigned supreme and continue to dominate kitchens across the U.S. this year.
Early Forecasts
When the year started, top interior design experts weighed in on what kitchen design trends homeowners would likely adhere to in 2019. Earlier this year, Realtor.com talked to several interior designers and identified 2019's leading kitchen trends.
Some of the forecasted trends included the use of darker colors, sustainable materials, and smart appliances. We've definitely seen these elements in the projects we've done in Kansas City as a part of our kitchen design services, in some projects more than others. So, as we reach the end of the year and start looking forward to new styles, we've gathered the design trends that have dominated kitchens in 2019.
Hail, Hidden Storage!
Minimalism is a classic and timeless style that manifests in different ways in interior design, including in concealed storage. This type of clever storage solution not only helps you achieve an effortlessly seamless look in your kitchen, but also saves space.
So, how does hidden storage work in your kitchen? Clever cabinetry solutions enable you to keep kitchen gadgets and small appliances tucked away, when not in us, freeing up space on your kitchen counter, for example.
If you're willing to retrofit your existing cabinet, you can install pull-out drawers that can be hidden when not in use. For instance, if you have space between a piece of furniture or your fridge and a retaining wall, a pull-out pantry shelf can be built-in to an area as narrow as six inches. This concealed storage solution can hold your non-perishables, such as canned goods, condiments, cookie jars, and can even be used as a wine rack. Simply pull it out from the space when you need something and slide it easily back into place when you're done.
When integrated correctly, concealed storage will make your kitchen look like a clean, uncluttered haven for the hungry.
Open Shelving Bares All
A complete 180 degree-turn from the previous trend, the open shelving trend is one that several design experts predicted would make a strong appearance in kitchens this year. They were right.
Inspired by hotels and retail spaces, this trend usually uses metal, wood, or glass shelving in place of hanging cabinets and cupboards. Lots of cookware and appliances today are Instagram-worthy on their own, but homeowners take this a step further and display their kitchenware like you would books or trophies. Floating, open shelves are the perfect piece of furniture to show off that prized cookery set, for instance.
Through open shelving, you can have a neat and organized kitchen while showing off your collection and expressing your individuality. Open shelving helps you turn your functional kitchen into a living space, too.
Waving White Goodbye
Long gone are the days when the kitchen typically had a sterile white-on-white motif. While white will still make its way to some of the elements in the kitchen, we find that more and more people are into cooking with color.
From solid-colored cabinets, patterned tiles, or rich wood accents, more pops of color are making bold statements in kitchens this year. If you still have a mostly-white kitchen, start incorporating colors by repainting your cupboards, getting your counter tools upholstered with a patterned fabric, or mixing in fixtures like pendant light and taps in brass or other contrasting metals.
Into the Darker Colors
As people start to move away from white, we see them moving towards darker colors in the kitchen. Black proves that no other color can be the new black, with matte cabinetry in this color dethroning white as the favorite.
Moody, ocean-inspired blues and greens are also taking over the kitchen. Accent pieces in these hues look great when paired with matte black cabinets and other hardware, as well as the brass fixtures we talked about earlier.
If you want a luxurious vibe in your kitchen, forest green accent pieces are your best friends. Deep forest green hues create a modern look and can be balanced with soft metallic pieces. Combine these with a light grey or white marble countertop and light will bounce around the space, offsetting the dark green tone.
Meanwhile, blue in navy shades continues to be versatile and adapts to your kitchen, whether you have an ultra-modern or traditional space.
Backsplash on the Scene
Backsplashes not only protect the kitchen's walls from water damage, but they can also be used as a color or design accent. Rectangular, tiled, and just enough to cover the sink area, this has been a classic componenet in many American kitchens.
Today, though, backsplashes are no longer merely practical, protective elements. Like you'd paint or wallpaper a certain section of a wall in a room, more and more homeowners are requesting for the installation of a single backsplash tile to create a focal point in the kitchen.
Heavily veined marble, a solid quartz surface, and eyecatching single tiles are popular replacements to a traditional backsplash. These materials cover walls in a single, solid slab with bigger and bolder patterns. Not only do they serve the same purpose as a traditional backsplash, they also provide your kitchen with a modern, unique design. These solid backsplashes also eliminate the need to clean the grouting between tiles, as you would have to do with their traditional, smaller-tiled counterparts.
Smart Appliances for Smart Kitchens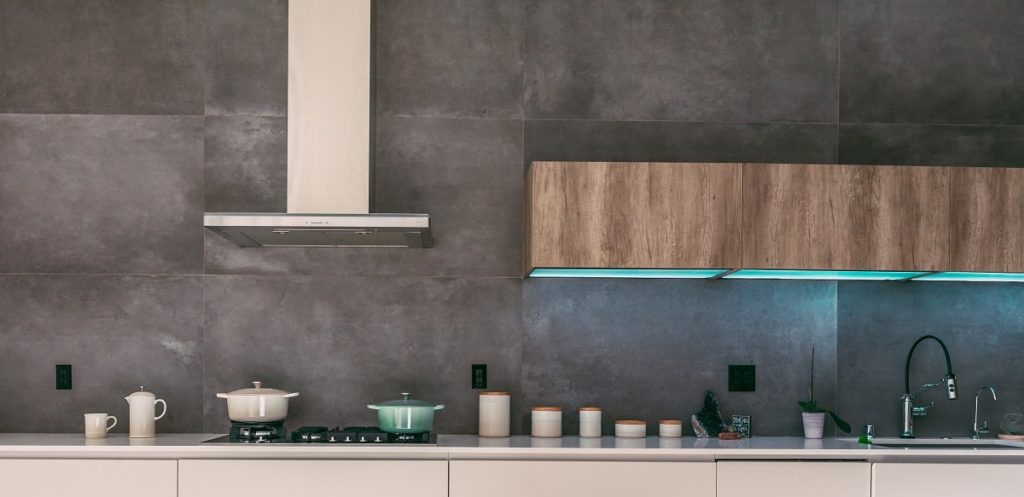 Bluetooth speakers on your fridge? Why not? Automatic lighting when you enter your kitchen? Sure. Wi-Fi enabled coffee maker? Yes, please. These are only some of the advancements of technology in the kitchen.
Smart gadgets and appliances in the kitchen make domestic tasks easier. With a technologically-equipped, smart kitchen, the quality of the meals you cook can be vastly improved, the processes of cooking are safer, and you can save on your utility bills because of more energy-efficient devices.
For these reasons, kitchens in 2019 are being renovated to accommodate technology. Whether you have a sleek and modern kitchen or a homey, traditional one, smart appliances are great, practical investments that are making their way into more American kitchens this year.
Every year, homeowners find ways to refresh their living spaces, and kitchen renovation is one of the most popular approaches to this goal. It's completely understandable, too, since your kitchen is not only a place to cook, but also to relax, entertain guests, and even bond with your family. To truly enjoy this space, consider updating your kitchen with the design trends we've discussed above.
Feast Your Eyes on a New and Beautiful Kitchen
If you're looking for someone you can trust to update your kitchen with these design trends, reach out to Total Home Remodeling. We work on kitchens in Kansas City homes, helping you achieve a functional, efficient, and beautiful kitchen all in one.
Visit Total Home Remodeling today and get a free quote on your desired remodeling project.