Those selling their home shouldn't be the only ones who get to talk about curb appeal! No matter if you want to sell your home tomorrow or just want your neighbors to say WOW! Here are some great ways to update the exterior of your home.
Exterior Home Remodeling: 5 Updates You Should Consider
From new windows to updated sidings, here are five exterior home remodeling projects that will make your home look brighter this season
Window Replacements for Comfort and Efficiency
Let's be honest — who wants to address window issues during harsh winters and humid summer days? Now that spring is here, you now have time to check your windows for damage and have them replaced as necessary.
Crystal clear windows do wonders for your disposition. In addition to literally and metaphorically providing clarity, new windows can make your home more energy efficient. If you are dealing with cracked window panes and signs of deterioration from different weather conditions, consider this a window replacement project.
Front Door Makeovers for a More Inviting Entryway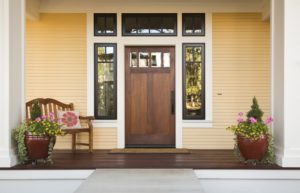 Windows may be the eyes to your home, but your doors are the arms that welcome people into your abode. Usher in spring and add excitement to your home with a front door makeover.
First impressions last; so, you should consider the condition of your front door. After all, it is the first thing guests see of your home. You can paint over the door to make it look good as new. You can use moulding to add dimension. Or you can go all out and switch from a single-panel door to a double-door entryway.
Siding Replacements for Structural Integrity
Sidings are your home's first defense from harsh weather elements. They provide protection from snow and wind, making the interiors of your home more comfortable during winter.
Now that the cold air is warming, check on your sidings and replace damaged ones to maintain structural integrity. New sidings also boost the appearance of your home. Browse through different design and color options to find the best match for your home's exterior.
New Gutter Guards for Warmth and Coziness
Clogged gutters and rain pipes might cause rainwater and melted snow to accumulate below the roofline and get into your basement. Replace or upgrade your gutters to prevent this from happening.
A new gutter system may be a more cost-effective option for you, depending on the extent of damage to your existing gutters.
Don't put up with clogged or leaky gutters any longer; opt for a gutter replacement to keep your home dry and cozy. You can also install gutter guards to prevent leaves from clogging your gutters and drain pipes.
Roof Repairs for Solid Defense Against All Elements
You may have covered all the bases to make your home look good as new this spring — but don't forget about your roof. It is your greatest defense against weather elements. So when the snow thaws and the roof is no longer slippery, check for cracks and repair them right away. Even the smallest crack can lead to leakage that can damage the walls and foundation of your home.
Get Started on Your Exterior Home Remodeling Project
With spring just about to bloom, now might be the best time to turn a new leaf. Whether you want to boost your curb appeal or got for a total façade makeover, you can count on our exterior remodeling team to transform your home and help you mark a new beginning in your life.
Get in touch with us today, for a custom quote.