If your home is anything like all of the others in Kansas City, there is a good chance you could benefit from new storage solutions in your bathroom. Bathrooms are one of the smallest areas in your home, and from toothpaste to hairdryers, they need to contain a lot. Face it, most of the time your stuff ends up in piles on the counter or jammed in one chaotic corner of the shower.
Let's change that.
Organizing your bathroom—whether it be a master bath, kids' shared bathroom, or guest bath—doesn't have to be difficult. In fact, here are three simple bathroom storage solutions you can start using today:
Hanging
Hanging storage is ideal for getting things off of the floor and out of your way. Plus, it takes virtually no time to install. Choose a sleek shower caddy that hangs from your shower head for all of your shampoo, conditioner, etc. A hook that hangs over the back of your door is also great for keeping towels dry and where they belong.
Under Vanity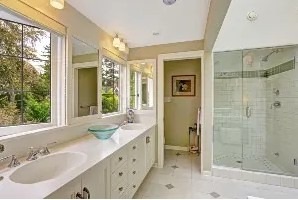 Whether your vanity has doors that close for hideaway storage or is a little more open concept, you can take advantage of the space for storage. Under vanity storage is great for items like hairdryers, nail polish, and other things that you don't want lying around on your counter. But before you just start shoving everything under your sink, be mindful and use plastic storage containers to help give each item an easy-to-locate home. If your vanity has an open bottom, use this as an opportunity to show off your personality with decorative containers instead of plain plastic.
Mounted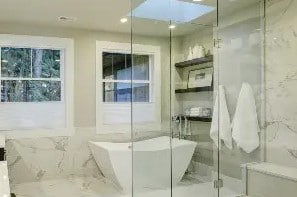 Bathrooms aren't typically known for their shelving, but you can still make the most of this design perk. By mounting open shelving on your bathroom walls, you not only give yourself easy access to your organized things, but you also add dimension and style to your space.
Whether you want to add more organization to your upcoming Kansas City bathroom remodel or simply want to clean the place up before grandma visits, these storage solutions are perfect. Plus, all can be customized to fit your unique home.
To learn more or to get started on your bathroom organization, visit Total Home KC today.