While your basement may not look like much right now, we think it has a lot of potential. Plus, the odds are good that remodeling your basement would be more affordable than a new room addition. But if you're still in the planning stages and wondering how it's even possible to brighten up that dark, damp square footage, read on to learn more about your basement finishing options.
Pale Walls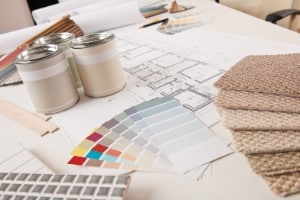 A classic way to trick yourself into making any room seem bigger and brighter is to paint the walls a pale shade. Pure white can have a stark effect, but there are tones with names like "Swiss Coffee," and "Chantilly Lace" that would be perfect.
Glass Doors
Additionally, using glass doors to separate rooms in your basement is not only elegant, but surfaces that reflect light will make your basement finishing more vibrant.
Light-Colored Flooring
Pale blonde wood floors can add a clean, beachy feel to your basement finishing, depending on how you choose to decorate. But whatever you're style, lighter flooring is more cheerful. Consider tile or polished wood. If you're extra fancy, you could even add radiant floor heating for warmer winters.
Creative Lighting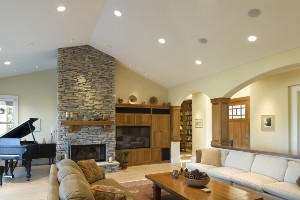 If your basement is partially above ground, with narrow windows, remember to trim those hedges to let in any available natural lighting. Implementing a variety of lighting options can add dimension to your space. Plus, an unexpected light fixture like a chandelier will catch your attention and can even create the illusion of taller ceilings.
Mirrors
As with glass doors, mirrors can be used to brighten up your basement finishing project. In part, this is because they almost double the sense of space they reflect, and they're reminiscent of windows, which most basements are lacking.
Accent Walls
Speaking of windows, when a room doesn't have any, an accent wall done in breezy colors can establish depth and make otherwise pale walls more exciting.
Fireplace
It may seem unusual to include a fireplace in your basement finishing plans, but a beautiful gas or electric fireplace adds warm lighting. Even when not lit, there's something both distinguished and comforting about a hearth.
Basement Finishing Services
We hope this article gave you some new ideas for your home. If you have any questions about basement finishing plans, our team at Total Home Remodeling is happy to discuss the best options for your space. Reach out online or at (913) 210-5851.