You have no idea how often I hear (as a single woman) "you can tell a woman lives here, there's stuff on the walls", I'm thinking "Well duh! I have a pink mailbox, technically you don't even have to come inside".  But, it got me thinking; is being a single guy really that hard? Or do you simply not care? Either way, if you're single and want to impress the ladies (because trust me a gross house is an instant "see ya!"), then put on some pants, read this entry, and get ready to go to Ikea.
Tip 1: Step away from color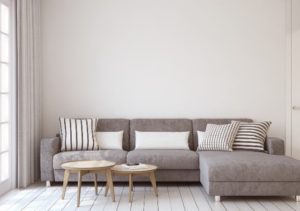 If you're having a hard time pulling your place together because you don't know if it's "going to go", by joe take the guesswork out of it!  Guess what fellas, black, white and gray go together, and you can't mess that up.  You can put whatever you want on your walls and you're golden.  But you're right, it's really not that easy. So excuse me as I change into my Kindergarten teacher voice – Start with a gray (charcoal works well) sofa, one with clean lines, simple, classic. If you're too scared to use white for any other furniture or accessories, consider a light gray to contrast with the darker charcoal sofa.  The next largest thing in the room should contrast with the first. The point here is to have a large piece of furniture that is also the heaviest piece of furniture visually. A black ottoman, black and white pillows, black art (buy a canvas paint a messy black stripe- boom! You have art) even black accessories (those are things you set out like book and bowls).  Don't be afraid of antique stores old things look masculine and add character. Use a black and white rug… see it's not too hard.
Walls are not scary, they aren't timid animals that bite you in the ass when you're not looking… Walls are not women. Walls should be simple, light, chalky and gray, in this case, your walls should disappear they should be background noise… So maybe they should be like a woman? I'm kidding!!!  Pick a gray strip you like the fourth color down of, then choose the first or second color on the strip, buy a couple of gallons and get to work. (No it won't look white!)
If you feel like you're a big enough boy to add color – Pick ONE. Commit to it. Use it sparingly. (That's what she said.)
Tip 2: What do women want?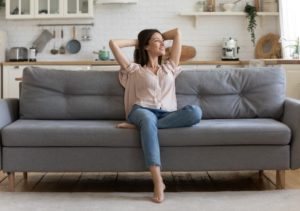 Ah, the age-old question… However, I think the simplest answer is we want you to care, and not only about yourself. We want you to want to impress the world and be humble about it. We want you to take pride in your home, appearance, health, and career.  The right woman doesn't care if you have a collection of PEZ dispensers, a lamp with a fish on it, sports memorabilia, or a pinball machine as long as they are displayed with pride, clean and you obviously love them- if you love it the right woman will too.  Now, a house that is magazine ready clean is also a little off-putting, we think "Holy cow! I hope this guy doesn't expect these standards from me on a daily basis…", you live in your home, a throw can be out of place, magazines can be on the table, a bottle of beer can be on your countertop, we might actually like seeing what you read, drink and like to snuggle up to.
"I have many leather-bound books, and my apartment smells of rich mahogany" – Anchorman
Tip 3: Know who you are.
Take a gander at the wonderful world of the internet, she is wise; and will show you things.  A few great sites to look at are Apartment Therapy for ideas on style, DIY and before and afters, Design Sponge for a look into the feminine an idea on decorating you might just find your style, and last but not least Masculine Interiors for that ultimate guide to your bachelor pad.
So get out there my young padawan, may the force be with you.