Your children have outgrown the baby tub and are now ready to use the grown-up bathroom. They know how to scrub, wash, and brush, and you're ready to give them their bathtime independence.
There's just one problem — your bathroom isn't ready for your kids. The floor is too slippery, the hooks are too high to reach, and the jet of water gushing from the showerhead is too powerful. There's not enough space for the extra toothbrushes, kiddie soap, and rubber duckies, moreover. How would your kids take a bath if they can't access or use half the tools there? More importantly, how safe are they in a room built for someone much taller in mind?
Total Home Remodeling has encountered this dilemma before, so rest assured that we know exactly what to do. Our contractors have remodeled bathrooms across Kansas City, preparing showers and toilets to be taken over by the little ones.
Here's a rundown of the things we tweak, remove, and add to make bathrooms child-friendly.
Part 1: Remodeling for Safety
When remodeling bathrooms for children, safety is a priority. Children are less mindful of hazards than adults, so it's up to the grown-ups to install security measures for a safer bathtime environment.
In increasing bathroom safety, we explore four key areas: 1) things that prevent slipping, 2) things that should be out of reach, 3) things that should be within reach, and 4) safer bathroom fixtures.
No Slipping
Anti-Slip Stickers – Smooth and always wet, bathroom floors are prone to slipping and falling. Place anti-slip stickers on the bottom of the tub and the floor surrounding the tub, shower, and sink. These stickers come in different sizes, colors, and shapes (fish, flowers, ducks, etc.).
Skid-Resistant Rugs – Even if the floor is dry, kids may step on a slippery rug, then slide, fall, and sustain injuries. If you want to place rugs, make sure that they're slip-resistant. Like anti-slip stickers, these come in various designs and sizes, so you don't have to sacrifice the room's aesthetic.
Stay Out of Reach
Sockets – If you want to place sockets in your bathroom for razors, hairdryers, and curling irons, we recommend placing the sockets at the top of the vanity — out of children's reach. This way, they can't pull any cord into the water and cause a safety hazard. Additionally, parents should unplug all appliances when not in use.
Locked Cabinets – The medicine cabinet houses items that should be out of children's reach (medicine, ointments, sharp grooming tools, etc.). Even if the cabinets are installed high up on the walls, its contents should still be under lock and key because curious children can use stools to open and rummage through the shelves. Moreover, in case of earthquakes, the contents won't fall from the cabinet, scatter on the floor, and create safety hazards.We also recommend recessed cabinets, so there won't be sharp corners and edges that children (and adults) could bump into.
Keep Within Reach
Removable Grab Bars – While permanent grab bars look sleeker, your children will outgrow the bars in a couple of years. Your best bet is to install removable grab bars by the toilet, shower, and tub and reposition them as your children grow.
Low-Hanging Hooks – Towel hooks and bars are usually fitted beyond children's reach. So, install hooks where children can easily access them. We recommend hooks for lower reach because bars, being bulkier, get in the way of adults.We suggest sticking the hooks on the lower part of the interior side of the door. There, it won't be in anybody's way.
Install Safer Bath Features
Less Glass and Ceramic – Glass and ceramic items look chic, but to prevent accidents, we suggest getting rid of these ornaments. Replace them with plastic cups, toothbrush holders, and soap dishes, among others.
Calibrated Heating Systems – It's best to have your water heating and cooling system checked before you give your children free rein over the taps and showers. A faulty faucet can easily grow scalding hot and cause burn injuries. To prevent scalding, make sure your heating system is set at 120 degrees Fahrenheit.
Adequate Light Fixtures – Efficient lighting is non-negotiable if your kids are using the bathroom. Moreover, too many shadows make your bathroom appear smaller than it is, and harsh lighting produces an uncomfortable glare.So, even if your children have perfect vision, the room still needs adequate lighting. Proper illumination helps children find their way or get the item they need.
Part 2: Remodeling for Functionality
While safety takes precedence in bathroom design, functionality comes in second. Your children need fixtures that are designed especially for little hands to make the most of their bathtime.
There are two aspects to functionality: purposeful design and useful features.
Creating Functional Spaces
Space for All the Children's Bathing Needs – It's standard practice to supervise children while they're still learning how to take a bath. The catch, however, is that you need to grab a lot of things as you help your children wash themselves — towels, soap, fishing toys, etc.As such, designate a space (like a large shower caddy or wall shelf) near the tub where you can park all necessary items before bathtime begins. You don't have to leave your kids and rush to three different cabinets just to help the kids out of the shower.
A Standard-Height Toilet – A child-sized toilet may seem like the practical choice today, but your children will outgrow them in a couple of years. Moreover, it's not a reasonable fixture if adults — parents and guests — will share the bathroom.So, install a standard-height toilet, which perfectly accommodates everyone, even years on. For now, place a stool to help kids access it (we'll discuss stools later).
A Scratch-Resistant Countertop – Your bathroom countertop is vulnerable to spills and scratches, thanks to days-old soap splashes and toys gashing the surface. To maintain your countertop's condition, choose a hardy material that can withstand rough treatment from even the rowdiest kids.Granite is one of the most popular choices because it's hard, scratch-resistant, and requires minimal upkeep. Moreover, it comes in different colors and patterns. If you have a more flexible budget, consider quartz. It's tougher than granite and naturally resistant to stains, scratches, and moisture.
Adding Kid-Friendly Tools
A Small Step Tool – Your children can't access the standard height of the toilet and sink, but it also isn't practical to install shorter features that they'll outgrow in a few years. So, add a small step tool; this way they'll be able to reach the sink and the toilet easily. An ideal stool would have handrails.
A Child-Friendly Showerhead – A standard showerhead is too powerful for kids; the stream of water will easily drench them. In some cases, the shower produces a high-pressure water stream that can hurt a small child. So, install a kids' showerhead instead. It is lighter and produces a softer water flow. With a shorter hose, it's more manageable for little hands.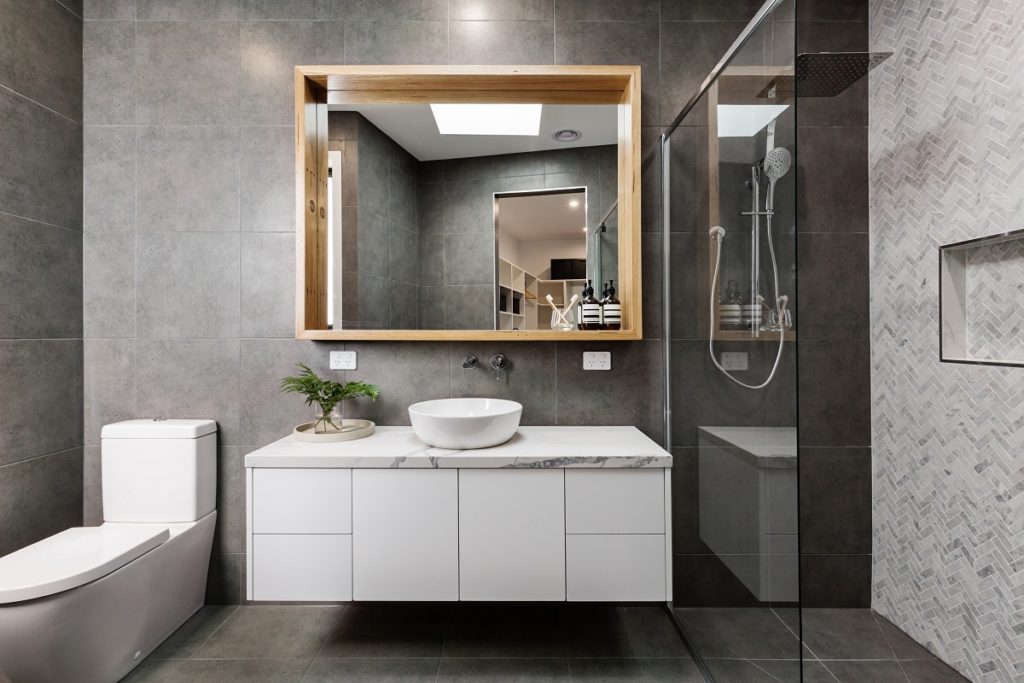 Part 3: Remodeling for Aesthetics
What is a child-friendly space if it doesn't have pops of happy colors or toys? Our contractors pay attention to safety and functionality, but we don't let aesthetics fall by the wayside. Since your kids will be spending at least an hour there every day, the bathroom has to evoke positive, sunny feelings. A plain, beige-and-taupe palette simply won't cut it.
We dissect interior design into two parts: the overall look and the décor and accents.
Overall Look
A Fun Color Scheme – Steer clear of the universal choices for bathroom paint (neutral colors) and explore a more vibrant scheme. You don't have to paint a mural of cartoon characters. You just do have to create a fun and interesting room for your kids. Try painting the walls sky blue, seafoam green, lilac, and lemon yellow.You can even incorporate color into bathroom hardware. You can install brightly colored knobs and mirror frames that complement the color of the walls.
Wall Tiles – If you want to keep your bathroom walls neutral, consider installing a tile wall on one side of the room. An accent wall will be the strong focal point of the space. Even if the hue of the tiles is close to a neutral palette, it still adds dimension to your bathroom.If you install it behind a sink, all the better. Tiles are typically resistant to splashes (children often splash while brushing their teeth or washing their hands). These will prevent your walls from getting soggy.
Décor and Accents
A Place for Toys – If bathroom toys don't have a place in your bathroom, the children will litter the tub, floor, and sink, creating a cluttered look. Devote storage space for your children's toys — like a vanity drawer or a shelf on the linen tower — where they can stash their rubber ducks after the bath.
Bathroom Artwork – If you're not a fan of blank walls, we recommend placing artwork with children's themes, like a portrait of a happy duck family or watercolor unicorns. You can also frame your children's drawings and hang them on the walls, so they feel like they own the space.
Whimsical Bath Items – If you're not a fan of hanging artwork or placing décor in your bathroom, just buy items with whimsical designs. Give your children a separate toothbrush holder, soap dish, or hand soap with their favorite cartoons.
Take note that this isn't an exhaustive list. Each family has different needs, so this may not be the exact additions and changes we'll include in a remodeling project.
Whatever your preferred safety measures, functional features, and interior design, Total Home Remodeling will deliver. We have a wide array of tiles, vanities, toilets, fixtures, and tubs to choose from. Whether you want a simple child-friendly space or an all-out, exclusive child bathroom, we pledge exceptional workmanship and carefully chosen materials that exceed your expectations.
Let's remodel your bathroom to suit your little ones and make bathtime safe, efficient, and fun. Get in touch today for a quote.