Your kitchen is one of the most frequently used rooms in your home, so it deserves some love. We've put together this list of some easy kitchen remodel projects for creative homeowners to keep your hands and minds busy during the pandemic. Let us know which ones you try! We love hearing about your DIY home improvement projects.
Kitchen Backsplash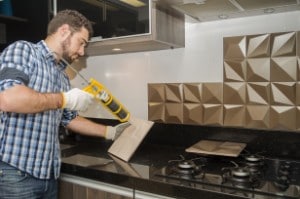 Putting in a backsplash along your countertops is a simple kitchen remodel project that's affordable too. Plus, there are lots of options, ranging from exotic tiles to peel-and-stick backsplash kits that come with pre-mixed grout to save you time and mess. Tin tiles are trending right now because of their unique reflective properties that really brighten up smaller spaces. Additionally, they come in enough finishes to match your current hardware.
Hang Pots and Pans
If your cabinets are always crowded, install a cookware rack for an old-fashioned feel. Suspending pots and pans from the ceiling will free up space and help with organization.
Install a High-End Luxury Faucet
Updating your kitchen faucet is a straightforward plumbing project for homeowners. There are so many designs on the market now, all in a variety of shapes and finishes, like rose gold.
Add Visual Space
You can really get creative with open shelves, even adding industrial support elements, such as galvanized piping. The great thing about open shelves is that they free up visual space, making this kitchen remodel worthwhile if you want to create a sense of openness.
Rustic Furniture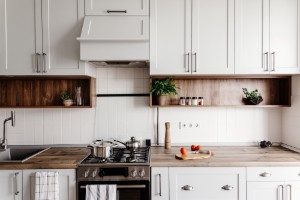 On the other hand, vintage furniture can add a rustic charm when integrated into a kitchen space. If you have an antique squirreled away in the shed, now is the time to pull it out and dust off those cobwebs. You can cover the top with a slab of natural stone or even a butcher block.
Replace Hardware
One of the quickest ways to update your home is so easy it doesn't even really count as a kitchen remodel project. But swapping out old hardware can make your cabinets look more modern. Just remember to select knobs or pulls that are the same size as the current ones, otherwise, you'll need to find your power drill too. If replacing hardware was too basic, you could always throw on a new coat of paint to freshen things up.
LED Puck Lights
And finally, LED puck lights are wireless and create a nice ambiance. Attach them either below your updated cabinets, or even on top of them if there's a gap between your storage space and the ceiling. They'll show off that new backsplash you worked so hard on.
Your Kitchen Remodel
Do you have a new home project in mind? Our team at Total Home Remodeling is here to turn your vision into a reality. Call us at (913) 210-5851 for a free quote.