So, you have finally done it. You have made the decision to remodel your kitchen. It's about time – after all, those cabinets and appliances from the '90s aren't coming back into style any time soon. When designing your new space, ensure your kitchen is set up for success with these kitchen remodel must-haves:
Smart Technology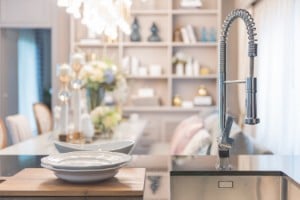 One of the biggest trends in home design currently is to incorporate smart technology – even in the kitchen. A favorite across Kansas City, smart faucets are the perfect addition to a kitchen remodel, as they allow homeowners to operate and control water flow and temperature via voice activation, an app, motion sensors, or even manual handle, taking your kitchen to the next level.
Abundant Storage
Why take the time to remodel your kitchen just to clutter the counters with appliances and dishes all over again? Ensure every gadget has a proper place to go by including strategic storage in your kitchen remodel. Choose from upper cabinets that extend to the ceiling, a new pantry, hanging shelves, or a combination of them all.
Space for the Entire Family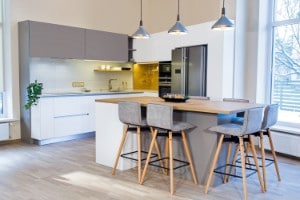 Your kitchen is one of the main hubs of your home, so make sure it has enough space to accommodate everyone in the family. Open up the area by knocking down any unnecessary walls and be sure to include enough seating for family members – who always want to help you chop and taste test – by adding an area for barstools along one side of a counter.
Cooking up a new kitchen design is an exciting process. When deciding what to include in your kitchen remodel, consider partnering with the experts at Total Home KC. Our team can help you along every step of the way, from initial planning to product choice to installation. Ready to get started? Contact Total Home KC today.