Recognizing your bathroom is in need of renovating is just the first step in a lengthy, sometimes intimidating process. When it comes to the follow-up, people often get lost in the details.
10 Bathroom Renovation Ideas to Suit Any Budget
If you've been putting off your bathroom remodeling project, don't wait any longer. The bathroom is one of the most frequently used areas in your home. And when it comes to renovations, even the most minor bathroom updates can transform an eyesore into an oasis. Here are a few of our favorite bathroom renovation ideas for projects of any size. Now, we say that we have 10 bathroom updates and we do, but we split them up according to ones that are very budget-friendly, and ones that are a little on the pricey side; but provide a huge payoff.
Simple & Significant Bathroom Updates
Let's start with the basics. Perfect for a quick spruce up or a budget-friendly revamp, these small bathroom renovations are both easy and transformative.
1. Upgrade your bathroom cabinets with new hardware
Replacing outdated or unattractive cabinet hardware is one of the easiest and most effective ways to completely transform your bathroom. There are a variety of knobs and pulls to choose from, in various styles, colors, and shapes.
A small project with a big effect, replacing bathroom hardware is also a fairly inexpensive bathroom update. Knobs or pulls usually cost about $2-$20 each. So If you're on a budget, this is a project that can easily be pulled off for less than $100.
If the cabinets themselves are looking a little drab, you can repaint them for an even more pronounced effect. Whether you choose a new color or stick with the same one, just make sure you're always thinking ahead. If you're not planning on implementing any other bathroom updates, be sure to choose options that coordinate well with the rest of your decor.
2. Throw on a fresh coat of paint
If you're looking to change things up in your bathroom, repainting the walls is one of the simplest ways to start. Interior design trends are always changing. If you live in an older home, you may be working with some strange hues, or maybe even some not-so-groovy 70's wallpaper.
Use a quality, stain-blocking primer to completely cover up old paint. Then, select a new color palette to work with. If you're looking for the best shades for resale value, neutral colors are always a safe bet.
3. Freshen up caulk and grout
The devil is in the details, and when it comes to bathroom grout and caulk, a little work goes a long way. Check the crevices in your bathroom tile and in the areas near the shower. If they're starting to turn brown or grow mold, you can clean them or completely replace them to freshen things up.
If you notice mold, this is a project you probably can't afford to put off. Not only is this unpleasant to look at, it's also hazardous to your health. If you're planning on selling, it will undoubtedly be extremely unattractive to potential buyers. If you can't simply clean things up, it may be worth it to consider bringing in a professional.
4. Save money and conserve water with an eco-friendly showerhead
Eco-friendly upgrades are a bathroom renovation that pays off. Conserving water is great for the environment, and it can also save you money. Low flow showerheads are manufactured to use and waste less hot water which can help reduce your heating and cooling costs.
If you're concerned that the quality of your showers may suffer with this eco-friendly upgrade, you're definitely not alone. Luckily, manufacturers have long been perfecting the art of creating high performance, energy-efficient products. There are quite a few options out there, and most of them don't fall short when it comes to power and performance. For the most part, eco-friendly showerheads are also priced similarly to other standard showerheads. So, in this case, you don't have to break the bank to reap the benefits.
Extensive, Yet Effective Bathroom Remodeling Ideas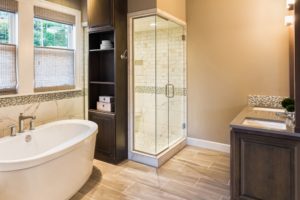 While these bathroom updates are a little more extensive, they're still workable with most lifestyles and budgets. Investing a little more effort in these larger bathroom renovations can do wonders for levels of comfort and aesthetics. Some of them might even save you a little bit of money or raise your home value if you decide to sell your home.
1. Install new light fixtures for an updated look

There are numerous benefits to replacing old light fixtures. From reducing costs on utility bills to improved lighting quality, this bathroom remodeling project is a worthy cause.
New light fixtures are a functional investment, but they can also completely change up the appearance of your bathroom. Whether you like to keep things simple or tend to experiment with bold, statement pieces–installing new light fixtures will make your bathroom feel updated and modern.
If you just moved into an older home, there's also the possibility that your current light fixtures aren't compatible with current technology, such as LED lighting. Many of the new lighting options are better quality than they have been in the past, while still remaining more energy-efficient.
2. Put in new tile for a fresh, updated look

If the bathroom tile on your walls or floor is severely damaged or deteriorating, it might be time for a replacement. New flooring can transform a room, making even the smallest spaces appear larger. Today, there is an abundance of colors, shapes, and sizes to satisfy even the most creative renovation requests.
For those budget-conscious homeowners, tile is extremely cost-effective. It is also durable, water-resistant and very low maintenance. For an area subject to a lot of moisture, this makes tile the go-to option when it comes to bathroom flooring.
Keep in mind that your bathroom floor doesn't need to be deteriorating for a replacement to be a good investment. If you're interested in retail value and don't mind adding a little extra to your budget, you can even go the extra mile and opt for heated tile. You'll appreciate the extra investment during the colder months of the year, and chances are, future potential buyers will too.
3. Try faux wood to accent your bathtub or use it on your floors
Tile has evolved in recent years.  With the emergence of imitation tile like faux wood and faux marble, homeowners have more attractive and affordable flooring options than ever before.
Real hardwood flooring is a popular, quality flooring option. Unfortunately, it is also expensive and highly susceptible to water and moisture damage. For these reasons, it would never make sense to install genuine hardwood in any bathroom.
Wood-look tile flooring, or faux wood, is nearly identical to authentic hardwood in appearance, with all the benefits that come along with tile. For a fraction of the price, you can essentially get the best of both worlds. Get creative and install faux hardwood as an accent to your shower or bathtub, or use it for your bathroom flooring. Either way, you'll achieve the appearance of hardwood in your bathroom–minus the stress.
4. Upgrade your vanity by adding a second sink
If you have enough space for it, adding a second sink to your bathroom vanity can be a huge selling point when it comes time to sell your home. This is true for the same reasons you and your partner may prefer a double vanity to a single. Fresh, new countertops with a double vanity create more space and a fresh look. At the same time, you'll also have two separate areas for storage underneath.
A bathroom renovation that makes cohabitation a smoother process, the double vanity is kind of a no-brainer. When you're not fighting for time in front of the mirror or at the sink, mornings spent together in the bathroom tend to be much less of a hassle.
5. Upgrade your bathtub for increased comfort and resale value
An old bathtub is one of those things that can be difficult to upcycle, depending on age and style. Even if you can clean it up, you'll never be happy with it if it's inherently difficult to look at.
If your bathtub is a bit of an eyesore, it might be time to get serious about investing in a new one. Luckily, this is a bathroom renovation that comes with plenty of options. You can replace your tub or opt for a shower and do away with it altogether.
If you're renovating the master bathroom, luxury options such as a jacuzzi tub or a steam shower, are likely to get you the biggest return on your investment in the long-run.
6. Go green with an energy-efficient toilet
Similar to other energy-saving upgrades, eco-friendly bathroom renovations come with their perks. As we know, they're beneficial for the environment and your bank account. Because of that, more often than not, they make good selling points during resale as well. Just like you, potential buyers are interested in anything that can save them money in the long-run.
When it comes to low-flow toilets, performance doesn't need to be a concern in today's market. At this point, manufacturers have worked out the kinks with low flow technology to produce high-performance toilets that conserve water and save customers hundreds of dollars in utility costs each year.
On top of all that, low-flow toilets are a pretty safe investment, the average eco-friendly porcelain throne usually lasting up to 30 years before needing to be replaced.
If you are looking for a bathroom remodeling company that has both the skills and experience to pull off your project and finish on-time and on-budget, our team at Total Home Remodeling is here for you. Contact us today for more information